How many models do you have?
We have three models to choose from.
Hexapodz6 which are six sided and in design phase due to be produced early 2020 which have 14 square metres internally and no storage underneath.
Retail including GST $37,499
Octopodz8 (featured on the Kiwipodz website) with eight sides and has 28 square metres of internal floor space with 14 Square metres of storage space beneath it.
Retail including GST $49,990
Dodecapodz12 which are also in design phase and when produced will be 12 sided and have 64 Square metres of internal space with 14 square metres of storage space underneath.
Retail including GST $74,990
What is the framing structure made from?
The framing structure is made of Oregon timber which gives Kiwipodz their strength and durability.  The insulated floor panel wedges slot in between the floor joists and the PVC fabric stretches between these for the walls and external roof segments.
What is the floor made from?
The SIP (Sealed Insulated Panels) panel wedges are made with a Meranti Ply (BS1088 standard) for the actual floor surface of the internal space which has a very attractive finish or can be covered with the flooring of your choice.  The SIP wedges have sandwiched insulation (Exceeds building code standard) fully encased in a aluminium shell and sealed on top of the floor joists.
What doors and windows do they have?
Kiwipodz come with a double opening large French door (1900mm H x 1600mm W) plus three windows (1550mm W x 700mm H Approx)
The windows all open awning style and are hinged from above.
What is the outside material made of?
The outside material is manufactured by Sergio Ferrari
Soltis 502 is fully
waterproof
100% UV
resistant 
Flame retardant
Thermal insulation
properties block up to 80% external heat. 
10-year guarantee
What are the inside walls made of?
Internal insulation with a choice of polyester or wool 300 gsm quitted onto the internal mould resistant high-quality poly-cotton lining.  
What about internal fit out and accessories?
We can supply all options for fit out with POA or you can fit out yourself. We can also supply off grid power options and we have outside modular deck systems.
Can I utilise more than one?
Yes, Kiwipodz are made to cluster together to create a-joining spaces and each model is designed to fit together so you can cluster different sized Kiwipodz.
When can I have one?
Hurry to secure your Kiwipodz with a 20% deposit and production in February 2020 with delivery from March onward.  Your place in the production schedule will be secured and held based on deposit paid.  We will advise delivery date at the time deposit is placed.
What Colour can I have?
There are nearly 40 colours to choose from and there is a graphic below of the range of colours Kiwipodz can be erected with.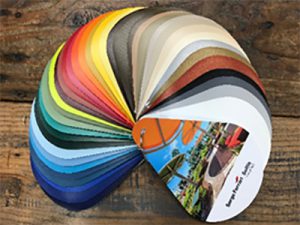 Delivery and build?
Kiwipodz are flat packed and delivered anywhere a truck can reach in New Zealand ready to erect on site by a competent DIY person or builder.  The components can also be shipped separately, even by helicopter to get to hard to reach places!  They take a day to erect and a second day to fit out internal lining and accessories.  You need two to three people to help with erecting the apex of the structure and you will need a ladder that can reach a height of 3.2 metres.
Compliance?
Kiwipodz are a temporary structure that can be moved, and for classification purposes would be the similar to erecting a tent.  Although they are a much more permanent structure and can last for many years. They can be deconstructed and moved if required. We would advise you to check your local council bylaws as they vary across the country.