Kiwipodz proudly launched their brand new range of minor dwellings and temporary shelters on the 5th September 2020.
Kiwipodz are a unique accommodation structure, in that the floor is raised off the ground, it sits on galvanised steel legs, and they are relocatable – if required. These features make them ideal for eco-ventures and all semi-permanent or mandated future-removal applications. Kiwipodz are a new and innovative Kiwi approach and at 28 square metres offer many opportunities.
Minor Dwellings
Temporary Accommodation
Eco Tourism
Glamping
Disaster Relief/Shelters
Studios etc
Low Cost 28m2 for $49K
Small footprint
Flatpack transport
One day setup
Fully insulated
20+ year life
Floor area:  14m2 / 28m2 / 64m2
Galvanised Steel Sub-frame
Oregon Super Structure
Tensile Structure Fabric exterior
Selected Materials for interior
Very Small Footprint
The Kiwipodz is both unique and amazing
The Kiwipodz construction explained
Animation showcasing the innovative construction & features of Kiwipodz
Kiwipodz can be made in a range of colours
Provide affordable and unique, flat packed living spaces for New Zealanders and the World.
The Kiwipod Construction Timelapse
Kiwipodz are innovative multipurpose building systems designed to create healthy living environments. They can be erected in a day to create an internal living space of 28 square metres. Further options are under development at 14 &  65 square metres. Each Pod has a secure storage space beneath the structure of 14 square metres or more.
Kiwipodz are flat packed and therefore easily transported anywhere in New Zealand, or even the world. The structure is lightweight, but strong and it is intended to last 20+ years. Each Pod incorporates durable canvas material supported by an Oregon timber structure formed in a very strong base configuration. We are also proud to say we use up-cycled materials in the floor, thereby reducing waste in Aotearoa.
A timelapse of Kiwipod setup (1 minute)
An artists impression of how the Kiwipodz could feature in a larger tourism or accommodation setting. There is a significant rising trend for glamping options in local tourism and we believe Kiwipodz more than meet that challenge. They are the perfect solution as they can be wired and insulated to be comfortable all year round!
As each Kiwipod is highly transportable using smaller segments, they are suited to use in clearings, and coastal points etc, they can even be delivered by boat.
With the living platform raised off the ground, they are suitable for use in areas where occasional or low-level flooding may occur.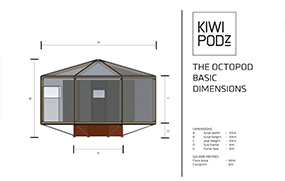 THE SIZES
The Kiwipodz concept has been launched with the 28 square metre Octopod. There is also a smaller 14 square metre and a much larger 64m2 pod which is designed to become the central element in a cluster.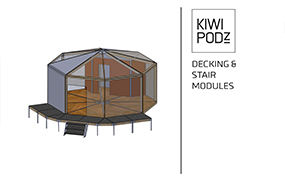 DECK & ENTRY STAIRS
The Kiwipod have a custom made flatpack deck and entry stairs module. These modules are available as an extra for those that want a perfectly fitted structure off the shelf.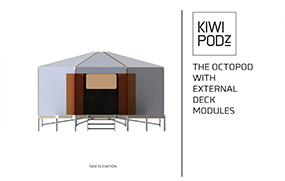 ENTRY DOORS
You can can add or remove windows and doors as required. The standard 28m2 pod has a set of french doors and multiple windows. See animated overview video to see multiple doors instead of one.
Commercial glamping & luxury accommodation
Kiwipodz for local tourism
A New Zealand made Kiwipod is the perfect solution for holiday park and tourism operators wanting a unique visitor experience. It will appeal to eco and adventure operators, luxury escape providers, and alternative lifestylers. Each pod is fully insulated, and they have a great soft 'feel' inside for luxury all-year-round glamping accommodation.  
Kiwipodz cluster options
Contact us if you are interested in developing a larger cluster option as we can take it from concept to a commercially developed solution in a short period of time.
A larger 65m2 central pod is in development and this could be built as required to form a hub.
This super pod could act as a communal meeting area, experience or education centre, or as a larger central living pod with the smaller 14m2 or 28m2 sleeping podz clustered around it and even a dedicated bathroom pod designed to handle internal moisture.
Finance Options Available
Kiwipodz are pleased to help you out. We don't do finance ourselves but we are happy arrange an introduction to TMF Finance Limited, – or just mention us in your discussions.
TMFNZ are leaders in finance for alternate and supplementary living spaces. These include tiny homes, pods, cabins and sleepouts.  Talk to an expert about assistance with financing your dream Kiwipod today.
Paul Richardson – 021 548 857  Paul@TMFNZ.co.nz
The mid-size Octopod featured here will retail for $49,000 including GST, making it an affordable option for many. Fit out is by optional modules (additional cost) or DIY fitout. 
Contact us arrange a viewing of the Kiwipod.
 14m2 – Hexapod from $37,000
28m2 – Octopod (Pictured) from $49,000
64m2 – Dodecapod  from $74,000
Production time is expected to be as little as 6 to 8 weeks from deposit.